AERO GAUGE
Aero Gauge is a futuristic racing game similar to F-Zero and other Wipeout.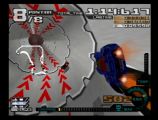 The originality here is that the ships fly and we gain speed by gaining altitude. But the circuits are built in such a way that it is difficult to stay at high altitude, with multiple narrow tunnels to cross and various obstacles requiring a perfect knowledge of the track to avoid them. This small learning phase does not last very long though, as there are only 5 tracks and they are all very short. There are many vehicles you can choose to use, but they're all ugly.
Y

ou said Ugly ?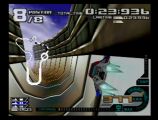 Moreover, ugliness is one of the main "qualities" of this Aero Gauge: everything is there to make your retinas rot and bleed: aliasing, blur, clipping 15m in front of you, design of bad taste, ... You can also count on a catastrophic soundtrack with awful music. It takes a lot of courage to play this game! That said, the game is quite fun and if the vehicles are easy to handle, they require a lot of dexterity, the scrolling being very fast.