Not yet a member ? Please come register yourself on our new
board
101% Nintendo 64
?? Volumes
An Austrian magazine dedicated exclusively to the Nintendo 64.
64 Extreme
8 Volumes
An English magazine dedicated to the Nintendo 64.
64 Gamer
?? Volumes
A German magazine solely focused on the Nintendo 64.
64 Instructor
?? Volumes
A German magazine offering only walkthroughs for Nintendo 64 and Game Boy games.
64 Magazine
54 Volumes
An English magazine exclusive to the Nintendo 64.
64 Player
6 Volumes
A magazine with more walkthroughs than actuality
64 Power
29 Volumes
64 Power is a German magazine focused on the Nintendo 64 which became big.N by the end of 1999.
64 Soluces
9 Volumes
A magazine containing only walkthroughs and cheats for Nintendo 64 games.
64 Solutions
3 Volumes
An English magazine focused on games walkthroughs.
64 Strategien
?? Volumes
A German magazine focused on cheats and walkthroughs for Nintendo 64 games.
Actu & Soluces 64
5 Volumes
A magazine 100% Nintendo-oriented with the first news about Game Boy Advance and GameCube, and fanboy-ish content. It appeared after the disparition of Gameplay 64, by the same editor.
Arcade
24 Volumes
An English multi-sytem magazine.
Ação Games
?? Volumes
Ação Games is a multi-systems Brazilian magazine published between 1991 and 2002.
CD Consoles
54 Volumes
A multi-console magazine, mainly focused on CD-based console but the tests were a little "oriented" for the PlayStation and against the rest...
Computer and Video Games
255 Volumes
Computer and Video Games is the first video games magazine released in Europe in 1981. It was published in a paper-form until 2004 and then ten more years as a website only before ceasing its activities.
Consoles +
255 Volumes
A multi-system magazine, launched in 1990 as a Tilt's special issue. It is mainly known for its high notations, rarely going under 70% even for the worst craps.
Consoles Max
52 Volumes
A multi-system magazine among the harshest in the market. It disappeared a few years after the Nintendo64-generation.
Consoles News
37 Volumes
A general magazine with a special focus on RPG, it was the first gaming magazine published by FJM.

Pokemon Stadium 2

Super Smash Bros.

Goldeneye 007

Super Mario 64

Aero Gauge

Wave Race 64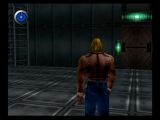 Hybrid Heaven is a turn-based RPG in a science-fiction universe.