Not yet a member? Please come register yourself on our new
board
The 64 Dream
?? Issues
A Japanese magazine focused on the Nintendo 64.
Total 64
?? Issues
An English magazine dedicated to the Nintendo 64.
Total Games
?? Issues
A multi-format magazine from New-Zealand.
Total!
?? Issues
A magazine focused solely on Nintendo created consoles.
Ultra 64
5 Issues
A Nintendo 64-exclusive magazine that quickly disappeared because of a lack of quality.
VSIXTYFOUR
3 Issues
A English magazine exclusive to the Nintendo 64 that had a very short life.
X64
38 Issues
An excellent N64-exclusive magazine with a lot of humor that didn't hesitate to bash crappy games. Certainly the best N64 magazine in France despite some doubtful reviews.
big.N
19 Issues
big.N is a German magazine focused on Nintendo systems and is the successor of 64 Power.
neXt Level
41 Issues
German multi-system magazine published during the second half of the 90's.

Body Harvest

Rampage 2: Universal Tour

F-1 World Grand Prix

Star Wars: Rogue Squadron

Tonic Trouble

Magical Tetris Challenge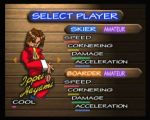 Big Mountain 2000 is a game mixing alpine skiing and snowboard races.