Not yet a member? Please come register yourself on our new
board
T

he complementary elements for Penny Racers
T

he texts on the back of the boxes
Penny Racers
If you're looking for fast, furious and intense multi-player racing then you are guaranteed to get your money's worth from Penny Racers.

Between 1 & 4 players compete in split-screen racing mayhem through millions* of testing racecourses. Chose from over a dozen diverse vehicles, from sleek sports cars to garbage trucks, and bolt on nearly 100 upgrades including weapons, engines, tyres, brakes, steering and armour enhancements. Plus you can chose (sic) between swapping upgrades or cannibalising your opponents.
We said this game was fun, we never said it was far. In fact, your deviousness will be limited only by your imagination.

* Available via the unique Penny Racers' track editor feature.

C'est intense... et c'est vraiment FRAPPANT!
Si tu cherches une course multijoueur ultra rapide, agressive et effervescente, alors tu peux être sûr que tu en aura pour ton argent avec Penny Racers.

Entre 1 et 4 joueurs peuvent s'affronter dans des courses décoiffantes sur écran partagé, sur des millions* de circuits éprouvants. Choisis ton véhicule parmi une douzaine de bolides en tout genre, de la voiture de sport au camion d'éboueurs. Tu peux même embarquer plus de 100 pièces de rechange, comme des armes, moteurs, pneus, freins et même des options supplémentaires pour la direction et le blindage. Gagne ces pièces ou pique-les à tes adversaires.
On a dit que ce jeu état hyper amusant, mais on n'a jamais dit qu'il était juste. En fait, ta fourberie ne sera limitée que par ton imagination.

* Disponibles grâce à la super fonction d'édition de circuit de Penny Racers.

Wer den "Pnny" nicht ehrt... ! Wenn Sie auf ein ein rasantes, packendes und spannendes Mehrspieler-Rennvergnügen aus sind, dann liegen Sie bei Penny Racers genau richtig!

Zwischen 1 & 4 Spieler brettern hier im geteilten Bildschrimmodus über unzählige*, verdammt harte rennpisten. Wählen Sie eines von diversen Fahrzeugen, vom heißen Schlitten bis zum Müllwagen, und staffieren Sie ihn mit nahezu 100 Upgrades aus, darunter bessere Waffen, Upgrades für Motor, Reifen, Bremsen und Lenkung sowie stärkere Panzerungen. Wenn Sie wollen, können Sie Upgrades tauschen, wenn Sie nicht wollen einfach Ihre Gegner plündern!
Wir haben immer gesagt, daß dieses Spiel Spaß bereitet. Wir haben nie behauptet, es ginge hier fair zu. Tatsächlich aber hängt alles von Ihrer Hinterhältigkeit ab. Ihrer Phantasie werden keine Grenzen gestzt.

* Dies wird durch einzigartigen Penny Racer-Kurs-Designer ermöglicht.
T

he complementary elements

No additional element from the distinct versions of the game is available on the site

F-1 World Grand Prix

FIFA 98: Road to World Cup 98

Super Mario 64

Goldeneye 007

Star Wars: Rogue Squadron

World Cup 98
Jikkyou J-League Perfect Striker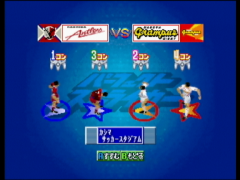 Jikkyou J-League Perfect Striker est un jeu de football permettant de jouer le championnat japonais.