Not yet a member? Please come register yourself on our new
board
T

he complementary elements for NBA Live 99
T

he texts on the back of the boxes
NBA Live 99
De Live-Style van de NBA

TOF - Makkelijk op te starten, makkelijk te spelen

NIEUW

3-punterwedstrijd

TE GEK

Beelden met hoge resolutie vanuit echte NBA-stadions

NIEUW

Realistische camerahoeken, exclusief op de N64

NIEUW

Besturing met de Analoge Stick
ECHT NBA-filmpjes ontstaan d.m.v. Motion Capture-techniek
CREËER, draft, ruil, contracteer en ontsla spelers

The Live-Style of the NBA

FUN Easy to start, Easy to play
NEW 3-Point shootout
AMAZING Hi-resolution graphics with real NBA arenas
NEW Realistic camera angles only on N64
NEW Analog joystick control
CLASSIC EA SPORTS gameplay
REAL Motion Captured NBA moves
CREATE, draft, trade, sign and release players

Το Λάιϐ Στάιλ Του ΝΒΑ

ΔΙΑΣΚΕΔΑΣΤΙΚΟ - Εύκολο να το μαθεις και να το παίξεις
ΝΕΟΣ Διαγωνιομός τριποντον
ΕΚΠΛΗΚΤΙΚΑ γραφικά υψηλής ανάλυοης με πραγλατικά γήπεδα του NBA
ΝΕΕΣ ρεαλιστικές γωνίες κάμερας αποκλειστικά στο N64
ΝΕΟΣ έλεγχος αναλογικού χειριστηρίου
ΠΡΑΓΜΑΤΙΚΕΣ κινήσεις του NBA
ΔΗΜΙΟΥΡΓΗΣΤΕ, προσγάϐετε, ανταλλάξτε και κλείστε με συμϐόλαια παίκτες

La reale atmosfera NBA

DIVERTIMENTO - Facile da iniziare, facile da giocare
NUOVA Competizione di tiro da 3 punti
INCREDIBILE Alta risoluzione grafica e reali stadi NBA
NUOVE Visuali realistiche solo su N64
NUOVO Controllo analogico del joystick
REALTA' Movimenti realistici
CREA, scambia, ingaggia, e cedi giocatori
NBA Live 99
La NBA, toute la NBA, rien que la NBA.

PLAISIR.

Prise en main immédiate et facilité de jeu.

INEDIT.

Compétition de tirs à trois points.

IMPRESSIONNANT.

Graphismes en haute résolution des véritables stades de la NBA.

INEDIT.

Angles de caméras réalistes.

INEDIT.

Possibilité de jouer avec le joystick analogique.
LEGENDAIRE. La jouabilité EA SPORTS.
AUTHENTIQUE. Mouvements des joueurs réalisés à l'aide de la capture de mouvements de véritables stars de la NBA.
CREATION. Draftez, échangez, engagez et libérez des joueurs.
Dialogues en version originale.
T

he complementary elements

No additional element from the distinct versions of the game is available on the site

F-1 World Grand Prix

FIFA 98: Road to World Cup 98

Super Mario 64

Goldeneye 007

Star Wars: Rogue Squadron

World Cup 98
Magical Tetris Challenge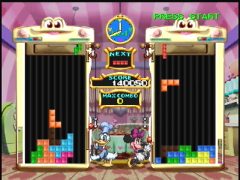 Magical Tetris Challenge est un jeu de réflexion mêlant Tetris classique et personnages Disney.