Not yet a member? Please come register yourself on our new
board
T

he complementary elements for Donald Duck: Quack Attack
T

he texts on the back of the boxes
Donald: Cou@k Att@k?*! (
alt. serial

)
Daisy, reporter sans frontières, se fait enlever par le diabolique Merlock. Donald décide de partir à sa rescousse. Mais Gontran veut aussi la sauver, Donald doit donc se dépêcher! Grâce à une invention géniale de Géo Trouvetou, Donald est téléporté à travers le monde, puis jusqu'au temple de Merlock pour sauver Daisy.

Donald peut être joyeux, hyperactif, fâché ou fou de rage : à toi de maîtriser ses humeurs pour le rendre le plus efficace possible!
4 mondes inédits : le Mont Donald, Donaldville, le manoir de Miss Tick et le temple de Merlock.
24 niveaux exclusifs en 3D dont 4 niveaux bons de poursuites et 4 boss de fin de niveau.
Un bonus supplémentaire pour changer le costume de Donald.

La intrépida reportera Daisy ha sido capturada por el malvado Merlock y nuestro héroe Donald ha decidido ir a rescatarla. Pero deberá darse prisa si quiere llegar antes que Narciso, que también ha ido en su busca. Gracias a un estrafalario invento do Ungenio, Donald será teletransportado a cualquier perte del mundo y llegar hasta donde Merlock tiene encerrada a Daisy.

A lo largo de su aventura Donald se sentirá feliz, rabioso, hiperactivo, triste... Tendrás que controlar sus estados de ánimo de la forma más eficaz posible.
4 mundo inéditos: Monte Pato, Patoburgo, la Mansión de Mágica y el Templo de Merlock.
24 niveles exclusivos en 3D con 4 niveles de bonus y 4 jefes de fin de nivel.
1 bonus especial para cambiarle el traje a Donald.
T

he complementary elements

No additional element from the distinct versions of the game is available on the site

Body Harvest

Rampage 2: Universal Tour

F-1 World Grand Prix

Star Wars: Rogue Squadron

Tonic Trouble

Magical Tetris Challenge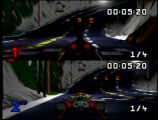 S.C.A.R.S. is an arcade racing game in a futuristic universe.