Not yet a member? Please come register yourself on our new
board
T

he complementary elements for Diddy Kong Racing
T

he texts on the back of the boxes
Diddy Kong Racing
Als de ouders van Timber de tijger op vakantie gaan, grijpt de ruimteschurk Wizpig zijn kans. Hij dreigt het hele eiland te veroveren, maar de dierlijke eilandbewoners pikken dat natuurlijk niet. Samen met Diddy en zijn vriendjes staat je een fantastisch race-avontuur te wachten!

Dit spel is tegelijk een race- en een avonturenspel!
Verken het eiland per auto, vliegtuig of hovercraft!
Geschikt voor één tot vier spelers!
Woel wat je ziet met het N64 Rumble Pak en bewaar je beste tijden op het N64 Controller Pak.

Les parents de Timber le petit tigre ont choisi le bon moment pour partir en vacances. Une fois de retour, ils trouveront leur île dans un état pitoyable, contrôlée entièrement par Wizpig le sorcier-porc de l'espace. Une fois de plus, Diddy Kong et ses amis se doivent de sauver la situation! Serez-vous capable de relever le défi de cet unique jeu de course / aventure?

Un cocktail explosif de courses et d'aventure!
Visitez l'île en voiture, en hydroglisseur ou en avion!
Modes de jeu à 1, 2, 3 ou 4 joueurs!
Compatible avec le Kit Vibration!
Enregistrez vos records dans la cartouche de sauvegarde N64!
T

he complementary elements

No additional element from the distinct versions of the game is available on the site

Body Harvest

Rampage 2: Universal Tour

F-1 World Grand Prix

Star Wars: Rogue Squadron

Tonic Trouble

Magical Tetris Challenge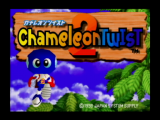 Chameleon Twist 2 is a poor 3D platformer that would interest only the biggest fans of the genre.