Not yet a member? Please come register yourself on our new
board
T

he complementary elements for World Cup 98
T

he texts on the back of the boxes
Coupe du Monde 98
Faites gagner la Coupe du Monde à votre pays

L'expérience de la Coupe du Monde

Le véritable tournoi France 98 : tous les joueurs, toutes les équipes sélectionnées, tous les groupes et tous les stades reproduits fidèlement.
Animations de la foule et véritables hymnes nationaux.

Jouabilité de la Coupe du Monde

Possibilité de modifier les tactiques et stratégies en cours de match.
Réaction plus rapide des commandes grâce à la technologie Compression Touch.

Les Coupes du Monde classiques

Remportez la Coupe du Monde et saisissez l'occasion de disputer les plus grandes Coups du Monde de l'histoire.
Revivez 8 des plus grandes Coupes du Monde ou réécrivez l'Histoire!
Textes en français et dialogues en version originale.
T

he complementary elements

No additional element from the distinct versions of the game is available on the site

Body Harvest

Rampage 2: Universal Tour

F-1 World Grand Prix

Star Wars: Rogue Squadron

Tonic Trouble

Magical Tetris Challenge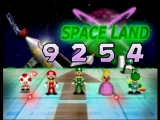 Mario Party 2 is a board game including several mini-games.