Not yet a member? Please come register yourself on our new
board
T

he complementary elements for Command & Conquer
T

he texts on the back of the boxes
Command & Conquer
De ultieme strategie-simulatie!
Kruip in de huid van GDI of de Broederschap van Nod en speel om de totale overwinning!

3D werelden, voor het eerst in C&C!
Exclusieve missies voor de Nintendo 64!
Elke partij heeft zijn eigen missies!

The ultimate Strategy-Simulation!
Play as either the GDI or the Brotherhood of Nod and carefully plan your military strategy to achieve ultimate victory!

Fully 3D worlds for the first time in C&C!
Includes exclusive missions only available on Nintendo 64!
Each side has its own unique forces!

Le jeu de stratégie ultime!
Rejoignez les rangs du GDI ou de la confrérie du NOD et appliquez avec patience votre stratégie implacable pour parvenir à la victoire totale.

Décors en 3D pour la version N64 de C&C!
Des missions inédites!
Des caractéristiques propres à chaque camp!

L'ultimativa simulazione di strategia!
Gioca o il GDI o la fratellanza di Nod e studia la tua strategia militare per ottenere l'ultima vittoria.

Universi 3-D realizzati - novità nelle serie C&C!
Con missioni esclusive ottenibili solo su N64!
Ogni parte con caratteristiche e missioni diverse!

¡Descubre la estrategia en tiempo real!
Juega en el bando del Ejército GDI o en el de la Hermandad de Nod y planea cuidadosamente la estrategia militar para conseguir la ansiada victoria.

¡Mundos en 3D por primera vez en la serie C&C!
¡Incluye misiones exclusivas sólo para Nintendo 64!
¡Cada bando tiene características y misiones distintas!
T

he complementary elements

No additional element from the distinct versions of the game is available on the site

Body Harvest

Rampage 2: Universal Tour

F-1 World Grand Prix

Star Wars: Rogue Squadron

Tonic Trouble

Magical Tetris Challenge

FIFA 98: Road to the World Cup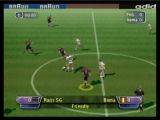 FIFA 98 is a football game in which you can replay the World Cup qualifiers with every national team in the world.