Not yet a member? Please come register yourself on our new
board
T

he complementary elements for Chameleon Twist
T

he texts on the back of the boxes
Chameleon Twist
Davy the Chameleon followed a peculiar rabbit into a magical pot, and now he's lost in a strange land! What's worse, he seems to have transformed into an alien! It looks like the only thing that's going to get him out of this mess is his chameleon's tongue...

Giant ants, poltergeists, flying cookies and many other weird and wacky enemies! 8 versus stages, and special time attack stages for practicing your chameleon skills!

En suivant un drôle de lapin, Davy le caméleon s'est aventuré dans un pot magique... qui ne contenait pas de confiture! Le voici donc perdu et, plus grave encore, le voici métamorphosé. Il semble que seule sa grande langue de caméléon puisse le tirer de ce très mauvais pas.

Des fourmis gluantes, des gâteaux secs volants comme des soucoupes et bien d'autres ennemis étranges et menaçants l'attendent et vous attendent... Huit étapes et un parcours spécial mettront votre adresse à l'épreuve!

Willkommen in der wunderbaren 3D-Welt von Davy, dem verzauberten Chamäleon. Seitdem er in den verwunschenen Zaubertopf gesprungen ist, findet er sich in einer Welt voller Rätsel und Abenteuer wieder.

Seine einzige Waffe gegen Riesenameisen, Poltergeister, fliegende Bomben und viele weitere unliebsname Gegner ist seine ellenlange Chamäleon-Zunge. Vielseitig einsetzbar benutzt er sie als Lasso, zum Stabhochsprung, oder um Feinde zu schnappen, aufzusaugen und als Geschosse wieder auszuspucken!
T

he complementary elements

No additional element from the distinct versions of the game is available on the site

Body Harvest

Rampage 2: Universal Tour

F-1 World Grand Prix

Star Wars: Rogue Squadron

Tonic Trouble

Magical Tetris Challenge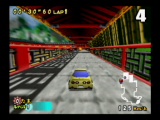 Choro Q 64 2 is an arcade car racing game in which you control cars modeled in Super Deformed.