Not yet a member? Please come register yourself on our new
board
T

he complementary elements for Bust-A-Move 3 DX
T

he texts on the back of the boxes
Bust-A-Move 3 DX
Op een dag... haalde de meestertovenaar van de ondeugd in Bubble World, DUNK, een mysterieuze tovetruc uit. In een lichtflits werden acht karakters uit acht verschillende spelen plotselling naar Bubble World getransporteerd. En nu mag jij ze weer naar huis sturen!!!

(Note LordSuprachris: Erreur d'impression sur la boîte, c'est le drapeau danois qui est repréenté et non le drapeau néerlandais)

One day... Bubble World's magical master of mischief, DUNK, cast a mysterious spell. And with a sudden flash of light, eight characters from eight other game worlds found themselves suddenly transported to Bubble World. It's up to you to bust the bubbles, solve the puzzles, and send them home.

Un jour... DUNK, le sorcier malveillant du Monde des bulles, jeta un sort mystérieux... et dans un éclair éblouissant, huit personnages appartenant à d'autres univers de jeu se retrouvèrent soudainement dans le Monde des bulles. A VOUS de les renvoyer chez eux!!!

Eines Tages belegte DUNK, der magische Meister des Unfungs, die Welt der Blasen mit einem geheimnisvollen Zauber. Ein gleißender Lichtstrahl blitzte auf, und mit einem Schlag fanden sich acht fremde Spielfiguren aus anderen Spielwelten in der Welt der Blasen wieder. Deine Aufgabe ist es nun, sie wieder nach Hause zu schicken!!!

Un giorno... Il malvagio stregone di Bubble World, DUNK, pronunciò una misteriosa magia e, con un gran lampo di luce, otto personaggi del mondo dei videogiochi si ritrovarono priogionieri a Bubble World. Tocca a te rimandarli a casa!!!

Un día DUNK, el maestro mágico de travesuras en Mundo Burbujas, lanza un misterioso conjuro. De repente, con un súbito rayo de luz, ocho personajes de otros tantos mundos de juego resultan transportados de inmediato a Mundo Burbujas. ¡¡¡Sólo tú puedes mandarlos de regreso a sus hogares!!!
T

he complementary elements

No additional element from the distinct versions of the game is available on the site

Duke Nukem 64

Donkey Kong 64

Mission: Impossible

NHL '99

Jeremy McGrath Supercross 2000

Glover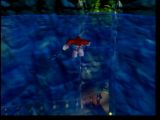 Donkey Kong 64 is a 3D adventure/plat-former starring the famous gorilla and his friends.