Not yet a member? Please come register yourself on our new
board
T

he complementary elements for Rugrats: Scavenger Hunt
T

he texts on the back of the boxes
Les Razmokets : la Chasse aux Trésors
Glissez-vous dans la peau d'un Razmoket et partez à la recherche du trésor perdu. Un jeu interactif en 3D pour les passionnés de défis : jouez autant que vous voulez, aucune aprtie ne erssemble à l'autre!

Caractéristiques

Trois jeux fantastiques en un : Le Temple de Couette-Couette, Le Trésor Enfoui de Papi et L'Île aux Délices de Reptar.
Retrouvez vos Razmoket préférés ainsi que le nouveau bébé de la familles : Jules Pickles.
Jouez seul ou avec un, deux ou trois amis.
Retrouvez l'humour de votre série préférée, ses personnages et ses décors en 3D.
À chaque début de jeu, les tableaux sont disposés autrement. Chaque partie est différente!
T

he complementary elements

No additional element from the distinct versions of the game is available on the site

Body Harvest

Rampage 2: Universal Tour

F-1 World Grand Prix

Star Wars: Rogue Squadron

Tonic Trouble

Magical Tetris Challenge

Jeremy McGrath Supercross 2000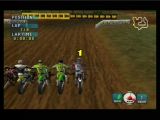 Jeremy McGrath Supercross 2000 is a common shineless motocross game.