Not yet a member? Please come register yourself on our new
board
T

he complementary elements for Pokemon Stadium 2
Download the manuals of each game version available on the site

Pokemon Stadium 2
T

he texts on the back of the boxes
Pokemon Stadium 2
Tous les Pokémon Or et Argent en 3D!

Des centaines de Pokémon en 3D! Qu'y a-t-il de mieux que de remporter un match de Pokémon? Une victoire en 3D sur N64!
Elaborez votre stratégie et admirez vos Pokémon en pleine action. Vous pouvez même voir vos propres Pokémon en 3D et toutes leurs attaques!

Découvrez Ho-oh, Lugia, et Pichu contre Mewtwo, Tortank, ou Pikachu.
Devenez le Maître du Stade! Défiez 21 dresseurs de Pokémon dans le Château des Champions!
Découvrez 12 nouveaux mini-jeux dans lesquels figurent vos Pokémon préférés!
Transférez vos Pokémon des versions Rouge, Bleue, Jaune, Argent et Or du jeu Game Boy ou jouez avec des Pokémon inclus dans la cartouche. Faire des transferts nécessite un Transfer Pak N64 et une cartouche Pokémon Game Boy, vendus séparément.
T

he complementary elements

No additional element from the distinct versions of the game is available on the site

Body Harvest

Rampage 2: Universal Tour

F-1 World Grand Prix

Star Wars: Rogue Squadron

Tonic Trouble

Magical Tetris Challenge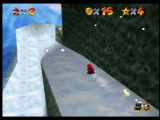 Super Mario 64 is a platform game that marks the successful transition of the series in three dimensions.