Not yet a member? Please come register yourself on our new
board
T

he complementary elements for Mace: The Dark Age
T

he texts on the back of the boxes
Mace: The Dark Age
LEEF VAN JE ZWAARD, VOOR MACE DOE JE EEN MOORD.

Mace is gesmeed in de hete vuren uit Middeleeuwen en het beste 3D vechtspel van alle tijden! Alle middeleeuws karakters hebben hun eigen unieke wapen, dat wordt gekenmerkt door het land van herkomst. Het enige dat ze willen is iemand ernstig pijn doen!

Verbluffende 3D graphics met een inktzwarte inslag
Zestien te kiezen karakters, twee verbazingwekkende bosses en zes verborgen karakters!
Tonnen heftige combo's en tegencombo's met eenvoudige bediening met vier toetsen (waaronder de 3D ontwikj-toets)
Ga helemaal op in de strijd met volledig 3D bewegingsvrijheiden voor je spelkarakter!
Neem de interactieve multi-level arena's goed in ogenschouw, maar kijk uit voor de levensgevaarlijke grenzen!

LIVE BY THE SWORD, KILL FOR THE MACE.

Forged in the fires of the Dark Ages, Mace is the hottest 3D fighting game ever! Each medieval character wields a weapon unique to their land of origin. Their only desire, to inflict serious pain!

Astonishing 3D graphics with a deep, dark edge.
Sixteen player-selectable character, two amazing bosses and six hidden characters!
Tonnes of tasty combos and reversals with simple four-button controls (including the 3D dodge button).
Become immersed in battle with complete 3D character movement!
Behold the interactive multi-level arenas, but beware of the deadly boundaries!

VIVE POR Y PARA TU ESPADA, DESTRUYE POR MACE.

Fabricado en las fraguas de la Edad Media, ¡Mace es el juego de combate más fascinante jamás creado! Cada personaje medieval lleva consigo un arma procedente de su tierra. Su único deseo, ¡causar la destrucción!

¡Sorprendentes gráficos en 3D con bordes oscuros y marcados!
¡Dieciséis personajes para elegir, dos jefazos de fin de nivel sorprendentes y seis personajes ocultos!
Montones de movimientos de ataque y cambios de dirección con un solo mando de cuatro botones (incluido el botón para visualizar las imágenes 3D desde diferentes posiciones).
¡Adéntrate de lleno en el combate gracias a los movimientos en 3D de los personajes!
Observa las zonas de juego interactivas con múltiples niveles, ¡pero mucho ojo con las barreras de la muerte!
T

he complementary elements

No additional element from the distinct versions of the game is available on the site

Body Harvest

Rampage 2: Universal Tour

F-1 World Grand Prix

Star Wars: Rogue Squadron

Tonic Trouble

Magical Tetris Challenge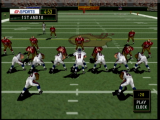 Madden NFL 2000 is an American football game using the official license of the 2000 NFL season.