Not yet a member? Please come register yourself on our new
board
T

he complementary elements for International Track & Field 2000
T

he texts on the back of the boxes
International Track & Field: Summer Games
PUUR ADRENALINE
Ga voor de goud met de enige Track and Field titel voor de N64.
Flitsend snelle gameplay voor wel 4 spelers tegelijk. Meer dan 12 afmattende internationale evenementen, van gewichtheffen tot gymnastiek, tot de 100M sprint.

Accrochez la médaille d'or avec le seul et unique jeu d'athlétisme sur N64
4 joueurs, plus de 12 épreuves différentes du 100 mètres plat au saut en hauteur en passant par l'haltérophilie ou la gymnastique, une présentation digne des plus grandes retransmissions sportives, compatible RAM PACK...

Pures Adrenalin!
Die Jagd nach Gold hat zum ersten Mal auf dem N64 begonnen. Phänomenale 3-D-Hi-Res-Grafik, atemberaubende Motion Capture-Animationen und ein grandioser 4-Spieler-Modus sorgen in über 14 Leichtathletikdisziplinen für die heißesten Sommerspiele im neuen Jahrtausend.

ADRENALINA PURA
Conquista la medaglia d'oro con l'unico gioco delle olimpiadi su Nintendo 64!
Giocabilità alla velocità della luce con la possibilità di giocare fino in 4 contemporaneamente
Oltre dodici discipline diverse, dai sollevamento pesi alla ginnastica ai 100 metri piani.

PURA ADRENALINA
Vive toda la emoción con el único Track and Field para N64.
Rápidos enfoques de luz durante el juego, para más de 4 jugadores.
Más de una docena de agotadores eventos internacionales, desde levantamiento de pesas hesta carrera de 100 metros.
T

he complementary elements

No additional element from the distinct versions of the game is available on the site

Body Harvest

Rampage 2: Universal Tour

F-1 World Grand Prix

Star Wars: Rogue Squadron

Tonic Trouble

Magical Tetris Challenge

Jeremy McGrath Supercross 2000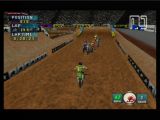 Jeremy McGrath Supercross 2000 is a common shineless motocross game.