Not yet a member? Please come register yourself on our new
board
T

he complementary elements for Hybrid Heaven
Download the manuals of each game version available on the site

Hybrid Heaven
T

he texts on the back of the boxes
Hybrid Heaven
DOODSANGST ONDER DE GROND!
Ontdek het geheime nachtleven van New York city in Hybrid Heaven. Een uniek actie RPG: een combinatie van vechten, actie en role playing. Een verhaal over een invasie van buitenaarde wezens, wetenschappelijk onderzoek en moord. Ontdek de geheimen van de Hybrid maatschappij, de toekomst van de mensheid en je ware indentiteit.

Terreur en sous-sol
Découvrez la vie secrète de la nuit new-yorkaise dans "Hybrid Heaven", le seul jeu de rôle en immersion totale, allie combats, action et aventure dans une histoire d'invasion d'extra-terrestres, d'expériences scientifiques et de meurtres. Mettez à jour les secrets de cette société hybride, sauvegardez l'avenir de l'humanité et révélez votre véritable identité.

TERROR UNTER NEW YORK!
New York birgt ein schreckliches Geheimnis! Tauchen Sie ein in eine Welt, in der sich Action, unglaubliche Kämpfe und Rollenspielelemente zu einem einmaligen Genre vermischen. Mord, Intrigen, Genexperimente und Invasionspläne einer außerirdischen Rasse lassen nur das Ausmaß erahnen. Infiltrieren Sie eine Hybriden-Gesellschaft und entdecken Sie Ihre wahre Identität!

TERRORE TRA LE STRADE!
Addentrati nella la vita notturna segreta di New York city, in un unico, appassionante RPG d'azione che combina combattimenti, azione e elementi di gioco di ruolo in una storia di invasioni aliene, esperimenti scentifici e omicidi! Svela i segreti della società ibrida, il futuro dell'umanità e la vera identità di te stesso.

EL TERROR BAJO LAS CALLES.
Descubre los secretos de la vida nocturna de la ciudad de New York, con un fondo inmerso de RPG en acción, que contiene pelea, acción combinando juego de rol en una historia de invasión, cientifica, experimentación, y asesinato. Desenmascara los secretos de la hibrida sociedad, el futuro de la humanidad, y la verdadera identidad de ti mismo.
T

he complementary elements

No additional element from the distinct versions of the game is available on the site

Body Harvest

Rampage 2: Universal Tour

F-1 World Grand Prix

Star Wars: Rogue Squadron

Tonic Trouble

Magical Tetris Challenge

Castlevania: Legacy of Darkness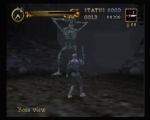 Castlevania: Legacy of Darkness reuses the first episode, adding new levels and a deeper story.